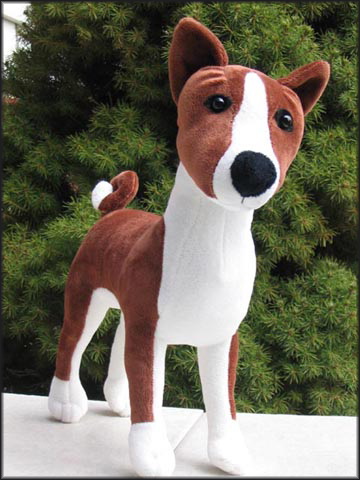 Introducing Magic, the plush basenji, from Veronica Anne Starbuck's beloved novel August Magic. He's a sweet, cuddly basenji just begging for a big hug!

Standing proudly at about 12 inches (30 cm) tall, Magic is covered with ultra-soft velour plush. His glossy dark eyes gaze adoringly at you, and his wrinkled brow gives him a tender look you're sure to love.

From his wonderful wrinkles to the white tip of his curled tail, you'll appreciate the attention to detail and care we've taken in creating this lovely plush basenji. Magic is manufactured by a commercial toy manufacturer, and he conforms to all applicable safety standards.

Magic is the perfect basenji companion for kids* and adults; his size makes him ultra-portable and perfect for snuggling.
*As with most plush toys, Magic is not recommended for children under three years of age.
Unlike a real basenji, Magic can easily be kept safely off-leash wherever he may go. And, because he's so well-behaved, he will not steal socks, shred tissues or chew on other stuffed animals.
Quiet and sweet,
he's guaranteed barkless and 100% loveable!
$16.95 each, plus Shipping & Handling

To order, use the printable order form below: