An unforgettable story of a lonely young woman — a grade school teacher named Carolyn Adams — and her adopted shelter dog, a fifteen-year-old basenji she names Magic.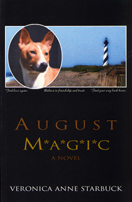 Carolyn and the old dog begin a friendship that leads them on a wondrous journey to the wild and beautiful Outer Banks of North Carolina. Along the way, they learn about each other, about the magical power of love and trust, and about the bittersweet victory of setting painful memories free.

If you've ever loved an animal and had that love unconditionally returned,
or if you've shared the beauty of a dog's autumn years,
you'll love August Magic!
$14.95 each, plus Shipping & Handling

To order, use the printable order form below: